---

Comments
What school personnel are saying about the Songs of the Pioneers presentation.

2018 Schedule
Where Songs of the Pioneers is being presented this year.

Previous Years Schedule
Where Songs of the Pioneers was presented last year.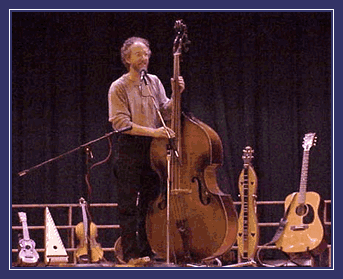 The Songs of the Pioneers presentation is a fun, interactive and educational way to expose children to the songs pioneers were singing as they traveled west. Les brings a car load of acoustic musical instruments to your school, introduces each instrument with some of it's history, sings songs from the 1800's, and ties the whole presentation together with pioneer experiences. It captures and holds the attention of K-6 students for 55 exciting and entertaining minutes. One music teacher from Ohio describes it this way:
"Your program was just wonderful!! You are bringing back the folk music all children should know and love, and do it in such a fun way that the children can't help but love it!!"
It's a great way to introduce students to some of the variety of folk instruments in the American tradition, as well as challenging them to think about some of the struggles pioneers had to deal with, including separation from loved ones, traveling priorities, creative ingenuity, and making their own musical entertainment. Students are involved in the presentation through questions, encouragment to sing and by providing rhythmic accompaniment on several songs.
Instruments include:
guitar, autoharp, mandolin, mtn. dulcimer, banjo, bowed psaltry, fiddle, ukelele, jew's harp, mouth bow, bass, harmonica, spoons, & limberjack.
Songs include:
Arkansas Traveler, Turkey in the Straw, Home on the Range, Wait for the Wagon, Red River Valley, Oh Susanna, Camptown Races, Yankee Doodle, Shortning Bread, Liza Jane, Skip to My Lou, Polly Wally Doodle, Old Joe Clark, Coming Round the Mtn., and Buffalo Gals.
Also available for day-long residencies in your school, which could include smaller group presentations with question times and an evening concert for families. This presentation is very appealing for special intergenerational events, such as grandparents days. The music touches all generations for a fun group activity.
For further information or bookings, contact Les at Les@gustafsonzook.com.(change the "at" to "@")